For most businesses, economic performance and the volume of customer cancellation calls are inversely correlated. Not surprisingly, many have experienced an accelerated volume of these types of calls over the past two month. It's worth asking, "are we handling these calls optimally?"
To explore the topic, I turned to Stage 2 Capital LP and long time friend, Oliver Jay (OJ). OJ currently serves as the CRO at Asana where he currently leads a revenue team of over 200 professionals across three continents. Prior to this role he served as the Head of Sales at Dropbox. Between these two roles, he has coached his team through hundreds of customer cancellation scenarios. To learn and have some fun along the way, OJ and I decided to role play a customer cancelling call and then spend a few minutes examining the tactics OJ used in the call. Below is a video of our chat followed by a summary of the transcript and takeaways.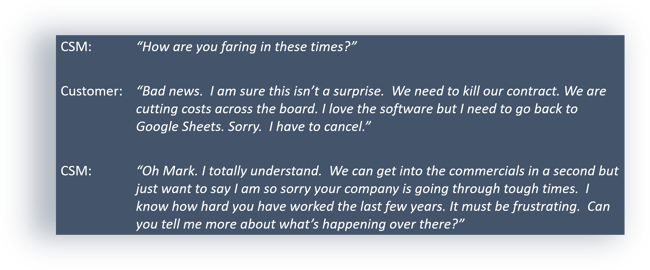 BEST PRACTICE TIP #1: Every customer call is a discovery call.
Whether it is the first meeting with a prospect, an inbound technical support call, or a cancellation call like this, we should always begin with a sequence of simple, open-ended questions to discover and develop the true customer need. While most customer success managers quickly jump on the defensive and offer a discount, notice how OJ slows the conversation down by empathizing with the customer's situation and offering the customer an opportunity to expand more deeply on their issue.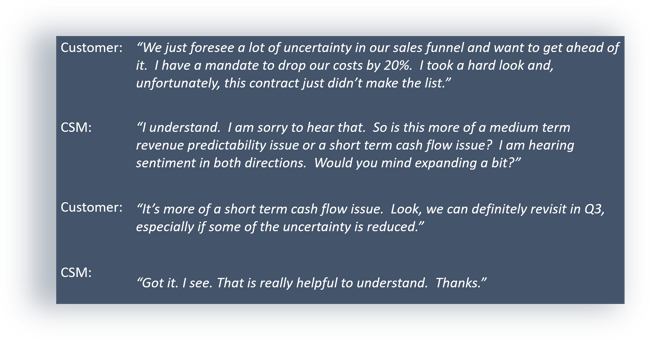 BEST PRACTICE TIP #2: Align retention offers with churn reason and customer strategic value
Discovery is useless unless we equip your CSMs with a playbook of retention offers that match the customer's issue. Customers with a short term cash issue value deferred payment terms while customers with annual budget constraints value a discount on the total cost of ownership.
Furthermore, the retention offer should differ based on the strategic value of the at-risk customer. Strategic value is more than how much the customer is currently paying us. Low paying but high strategic value customers may include customers with high expansion potential, the first customers using a new product, or the first customers in a new market. The higher the strategic value, the more aggressive retention offer we should be willing to provide. This lens is especially important in early stage companies. It is very common for early stage businesses to look across their customer install base and find customers they would not have acquired had they known what they know today about their business. This is a very common outcome for companies that have journeyed through the product-market-fit exploration stage. However, it is mission critical to retain the customers we have focused our business on. Aligning our retention offers accordingly allows us to reinforce strategy with front-line tactics.
An example CSM retention playbook is below. While simple, it is a dramatic improvement from CSMs jumping to the same retention offer for everyone.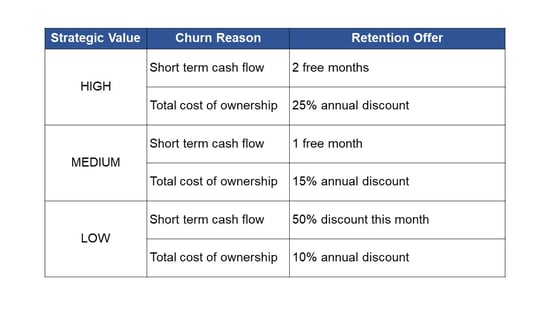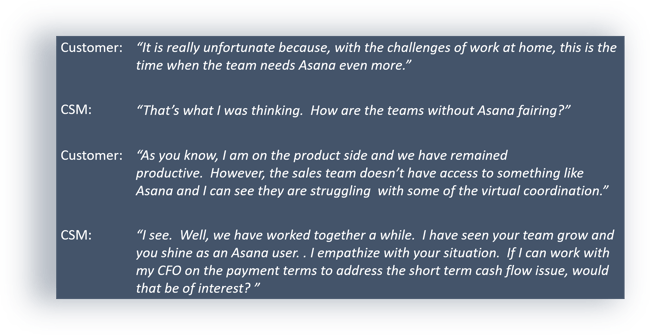 BEST PRACTICE TIP #3: Suggest the offer. Don't pre-commit.
Avoid making a retention offer until you have confirmed it will work. Often CSMs state, "I can offer you a free month" only to hear they still need to get approval from their CFO or the offer doesn't address the issue. Notice OJ's tactic. He states "if I can...work on payment terms..." Later in the conversation he asks the customer to verify the offer will be useful before he goes to bat for them with his finance team.

BEST PRACTICE #4: Match our "give" with an equally valuable "get"
The "give/get" framework has been a guide for many sales situations. Essentially, the framework matches various "gives" you can provide a customer or prospect with "gets" of equal value that you can ask for. Just because a customer is calling to cancel because of short term cash flow issues doesn't mean there isn't value they can provide to warrant the risk of an aggressive retention offer. Notice how OJ couples his "give" with an inquiry as to whether the customer could expand the usage of their product, temporarily for free. Now OJ has not only increased the likelihood the customer will retain in the short term but also expand LTV in the long term.

BEST PRACTICE #5: Explore the customer's tech stack to look for ways they can eliminate other vendors by expanding usage of our product
We rarely find customers that understand the full breadth of our solutions. By understanding the broader tech stack, CSMs will likely uncover products that have redundant functionality as our offering. The customer simply never realized it. This discovery transitions a cancellation call for us into usage expansion and a cancellation call of our competition.
Hopefully we now have some additional perspectives to reflect on our approach to customer cancellations. What else is working for people?