Step 1: Re-invent ICP and CVP
I

magine it is April 2021. As you look back on today, what will be your bigge

st business regret?
When asked about regrets in the 2001 and 2008 recessions, the response fro
m sales leaders and founders is eerily consistent: Not driving a bolder, faster pivot. There is no universally correct go-to-market strategy. Instead, optimal go-to-market design depends on the outer

context in which it resides.
When the outer context shifts, rapid adaptation is necessary, starting with the organization's Customer Value Proposition (CVP) and Ideal Customer Profile (ICP). This is not easy. Change is riddled with anxiety. However, past down economies abruptly re-wrote the economic landscape seemingly overnight, shifting advantage from one company to the other. This is your opportunity to play offense, not defense.
In order to maximize the accuracy of your pivot hypothesis, orchestrate a cross-functional meeting to understand the outer context shift and its implications for your business. Include leaders and front-line employees in this discussion. The former provide strategic guidance. The latter represents the most accurate voice of the customer.
As you formulate your hypothesis, pretend you were just parachuted into your business as a new CEO. Given your product, staff, and business process expertise, how do you fit into the realities of the new economic landscape? This exercise will help detach you from sunk costs and now irrelevant investments that can clutter your judgement.
For inspiration, here are some successful ICP and CVP pivot examples conducted by companies in our portfolio or run by our LPs: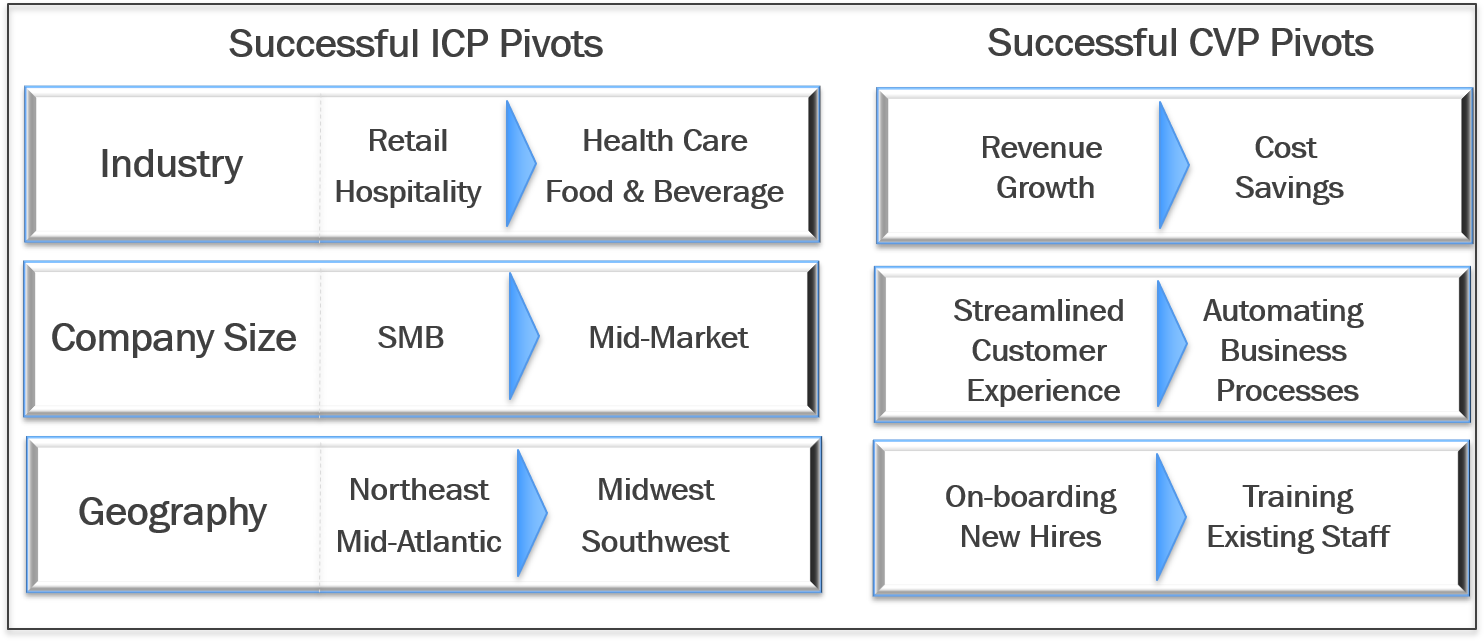 Step 2: Test your hypothesis.
In a shifting landscape, the only strategy worse than status quo is rolling out a suboptimal pivot. It is amazing how much improvement can be gained in just a few hours of testing. In this context, creative leadership is less about nailing the correct CVP/ICP pivot right out of the gate but more about devising an efficient test/learn/iterate process to

determine the answer. How can we learn the most with the least amount of investment and shortest amount of time? Put your IQ horsepower behind that question.
Tactically speaking, create four very different combinations of market and message. At the start of a pivot, I actually like to ignore the standard scientific method that suggests keeping all variables constant except one. We don't have that kind of time. By starting with four very different market/message combinations, you will likely see a more extreme variation in results. Then you can run sequential experiments to find out why the variation occurred and apply the learning to other segments.
These experiments can be run quickly through a few SDRs, email marketing, and/or a digital ad campaign. Don't overlook the digital ad approach, even if your audience is not frequently in these networks or this channel has never been profitable for you. We are solving for maximum learning, not profits. Robust digital ad platforms have exceptional tools to understand market/message outcomes that can then be applied across your broader go-to-market playbook.
Step 3: Operationalize the Change on the Front-Line. Use film reviews!
Having developed the confidence in your pivot through creative, rapid testing, it is now worth the investment to operationalize the change on the front line. Sending an email to the sales and marketing team or calling an all-hands meeting isn't going to cut it.
Hold everyone accountable to their respective contributions.

One effective tactic that is often overlooked as we operationalize these pivots is the use of "film reviews". Film reviews bring together a team of salespeople to jointly listen to and critique a live sales call. The best leaders I've observed during times like these sit in on a film review everyday. There is no better way to stay close to the market, optimize the go-to-market playbook, and inspect that the sales team is executing the intended strategy effectively. Below are a few specific tips on running effective film reviews:
Assign one seller to be on the "hot seat" each. This person is responsible for recording a prospect call for the film review. Obviously, abide by your local privacy laws when doing so.

Start with discovery calls. These calls are most effective in understanding the current voice of the customer.

At the beginning of the meeting, assign one observer to think about positive feedback and one person to think about needs for improvement. A total of 5 to 10 people in the room is optimal.

Listen to the call together. Once complete, have the person on the "hot seat" reflect first. Then have the "positive feedback" person share their comments. Then have the "needs for improvement" person share their comments. Then open it up for general comments from the group. As the leader, close the meeting with a summary of take-aways, hopefully generated organically by the team. Frame takeaways and feedback less about specific criticisms of the "hot seat" salesperson and more on general improvements the team should strive for.

Don't hesitate to include representation from marketing, product, and customer success. Again, these calls are remarkable opportunities to continually understand the voice of the customer and embed a renewed view into their daily work.



Step 4: Reforecast with a Bottoms Up Model
Four weeks into an economic shift does not provide enough data in most funnels to accurately assess necessary adjustments of sales velocity, conversion rates, and new revenue outlooks. However, we are faced with mission critical decisions like sales quota relief, salary adjustments, and potential staff reductions.
To initially guide these decisions, start with a simple top down analysis of your cash position over the next 12 months. Use the hopefully conservative plan you committed to the Board at the beginning of the year as your status quo case. Then create a "bad" case by raising burn by roughly 20% and a "worse" case by raising burn by 40%. Finally calculate how many months of capital you have in each case. Nobody knows for sure what the next few quarters will look like but it will probably not be a good time to raise capital. You really want 12 months of runway in place to make it through the next phase and sometimes very difficult salary and staff decisions are necessary. Most leaders admit this reality too late and have to shut down a good business that otherwise would have made it.
Once April results are in, many businesses will have a much better understanding of where sales cycles and conversion rates are headed. At that point, conduct a more rigorous bottoms up analysis to analyze the situation and see which scenario you are tracking toward (status quo versus bad versus worse).

Download our Stage 2 Bottoms Up Model here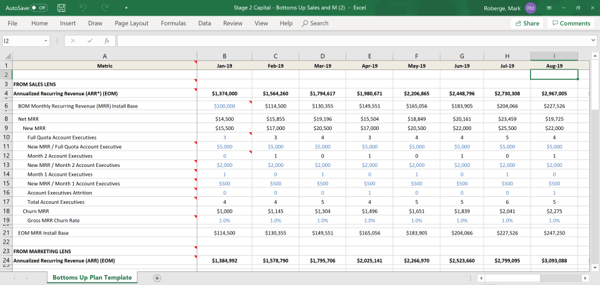 Through this process, take a hard look at sales quotas. Your sales team should not take a disproportionate personal financial hit relative to other employees. At the same time, be clear that any reductions are temporary and will be re-visited on a monthly basis. On average, we are seeing a temporary 20% reduction in quotas across the startup community with a high degree of variance depending on company context.
Step 5: Align Goals with Evolved Lens of Future Investors
Finally, many venture-backed companies devise medium term sales goals based on the narrative they want to deliver to future investors. Historically, the criteria investors use to evaluate deals shifts when the economy does. In the next 12 months, we will likely move away from an investor lens today focused on top line revenue growth to a lens focused on customer retention and unit economics. A sub-$30 million company growing at 50% per year with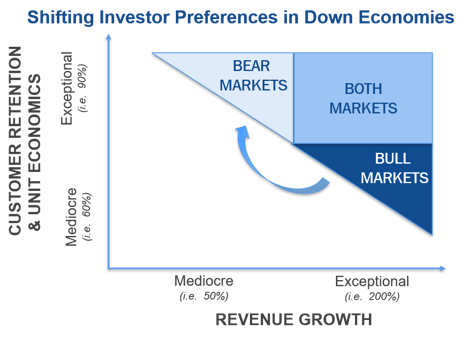 exceptional unit economics and retention may have struggled to raise capital at the beginning of this year but may be a very attractive investment target at the end of this year.
This anticipated shift in investor sentiment has significant implications on our go-to-market strategies, namely the resource deployment between new customer acquisition versus existing customer retention and expansion. We should strongly consider shifting more investment to the latter.
This is a great opportunity to hone further in on your ICP. Investors recognize that companies early in their journey are still understanding their ICP. While a strong overall customer retention performance is ideal, having a mediocre performance is OK as long as you can point to a segment where you have been doing really well, have a lot of room for growth, and you have demonstrated an effective re-deployment of resources. To follow this strategy, separate your customer base into three segments:
Segment A is aligned with your now known ICP.

Segment B is circumstantially aligned.

Segment C is no longer aligned.
Take a proactive approach to Segment A by having CSMs reach out. Provide a lot of latitude on temporary price reductions or other benefits to retain these folks. Take a reactive approach to Segment B and C with some benefit tolerance for Segment B and no Segment tolerance for Segment C.
Although the outcomes from this period are still far from certain, we will have better visibility in the coming months as to potential paths forward. We've leveraged our own experiences from past recessions to create this 5-step playbook with both high-level strategic and front-line tactical ideas for your execution this month and quarter. What did we forget? What else has been working? What other questions do you have on sales pivots?