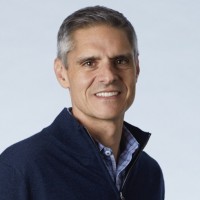 Kevin Knieriem
EVP & CRO, Clari
As the EVP and Chief Revenue Officer of Clari, Kevin offers more than 20 years of experience driving revenue growth and building successful sales teams for leading enterprise giants and high-growth startups. Prior to Clari, he spent more than four years at Oracle where he held several leadership positions, including CRO at DataScience.com (acquired by Oracle in June 2018). In this role, Kevin led DataScience.com's demand generation, field marketing, sales and customer success initiatives from pre-revenue through acquisition by Oracle. During this time, DataScience.com helped define and then lead the Forrester Wave for Predictive Analytics & Machine Learning Platforms. Prior to that, he spent over a decade at SAP where he led regional and national organizations.

Kevin holds BA in Food Marketing from Saint Joseph's University. He's a graduate of the executive leadership program at IESE Business School.
Connect
Apply for the next Stage 2 Capital Accelerator!
We're now accepting applications for the Spring 2023 cohort. As part of the Stage 2 Capital Accelerator, you will:
Join an exclusive cohort of 15 rising B2B companies
Receive $100K in capital
Create and implement your go-to-market strategy