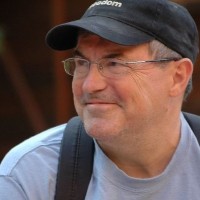 Dan Tyre
Director, HubSpot
Dan is a 15-year-veteran of HubSpot, hired as employee number six. While initially the first salesperson, Dan has since helped expand the sales team through management, recruiting, and training. He is also a frequent contributor to the HubSpot Sales Blog and coined the term "Smarketing" to describe the necessary alignment between sales and marketing.

Outside of HubSpot, Dan leverages his 42 years of multidisciplinary business experience in sales, marketing, and service to help scale fast-growing companies and coach those that want to harness the power of Inbound Marketing to improve their bottom line. In April 2018, he published a book with Wiley Business Press with Todd Hockenberry called Inbound Organization: How to Build and Strengthen Your Company's Future Using Inbound Principles, and he regularly shares his knowledge through guest appearances on podcasts and as a speaker at worldwide events.
Apply for the next Stage 2 Capital Accelerator!
We're now accepting applications for the Spring 2023 cohort. As part of the Stage 2 Capital Accelerator, you will:
Join an exclusive cohort of 15 rising B2B companies
Receive $100K in capital
Create and implement your go-to-market strategy