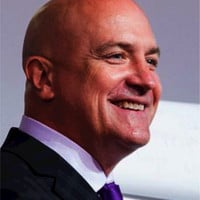 Steve Moroski
CRO, Continuus Technologies
Entrepreneurial and dynamic leader with 25+ years of software and technology sales experience guided by eight core values:
Growth: Started and grew two businesses from $0M to $500M+ at Oracle and Salesforce. Focuses teams' energy and resources toward shared goals.
Equality: Highlighted as an Ally of equality, diversity & inclusion in Marc Benioff's book, Trailblazer. Builds and empowers diverse teams.
Talent: Attracts, recruits, coaches and leads top performing, prime and co-prime sales, pre-sales and alliances teams.
Revenue Driven: Instruments, automates and inspects a variety of processes, systems, and data to aid in key decisions that drive revenue growth.
Innovation: Envisions, champions and executes creative strategies related to cross organizational direction, performance and culture change.
Customer Success: Builds, turns around and optimizes the performance of field sales organizations driving customer loyalty.
Beginner's Mind: Constant learner and avid re-inventor of skills and capabilities. Curious. Invests in continuous personal improvement. Embraces change.
Trust: Builds trusted relationships with customers, employees and partners through frequent transparent communications, coaching and feedback.
Connect