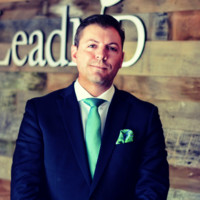 Justin Gray
CCO / fmr Founder & CEO, Shift Paradigm / LeadMD
Justin Gray is a serial entrepreneur who has made a career of launching successful companies and scaling them, with successful exits of over 250MM. After joining the Shift Paradigm family as a result of the LeadMD acquisition in early 2021, Justin slotted into a role near and dear to his heart, helming the go-to-market team where he manages Sales, Marketing and Business Development.
Justin is also a strong voice for pragmatic entrepreneurship, modern marketing, and building intentional organizational culture. As a recognized speaker, Justin has been published over 500 times in industry publications and maintains a regular column in Inc., while also contributing to Entrepreneur, Tech Crunch and others.
Justin and his wife Jennifer met over marketing, have a son named like a superhero, Grayson, and a daughter who's destined to be a Rockstar. When not driving bookings revenues, you can find him roaming the fields at his hemp farm in Missouri or combing the desert looking for a poorly executed shot at the golf course.
Apply for the next Stage 2 Capital Accelerator!
We're now accepting applications for the Spring 2023 cohort. As part of the Stage 2 Capital Accelerator, you will:
Join an exclusive cohort of 15 rising B2B companies
Receive $100K in capital
Create and implement your go-to-market strategy