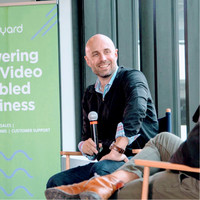 Brad Coffey
fmr CSO, HubSpot
Brad Coffey is the Chief Customer Officer at Pipe. Pipe is building the Nasdaq for revenue -- a platform that allows companies to trade recurring revenue contracts for capital. At Pipe, Brad is focused on driving growth and enhancing the customer experience across marketing, sales, UX and product.
Prior to Pipe, Brad was the Chief Strategy Officer at HubSpot. In the role, Brad led the long-term strategy around HubSpot's products, packaging and pricing. Additionally, Brad oversaw HubSpot's partnerships, ventures, and corporate development teams. Brad joined HubSpot as one of the company's first employees, working in product and operations. During Brad's time at HubSpot, the company grew from a startup with less than $1m in ARR to a publicly-traded company with $1b in ARR.
Brad also spends time angel investing and advising startups, especially focused on startups in the HubSpot ecosystems
Brad holds an MBA from MIT Sloan and a BA in Computer Science from Amherst College.
Connect