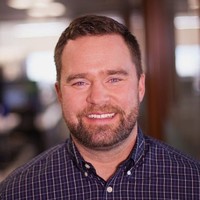 Andrew Bennett
CMO, Smartsheet
Andrew Bennett is the chief marketing officer at Smartsheet, where he leads Smartsheet's global marketing organization in driving awareness and demand for Smartsheet's products and offerings. Prior to his role as CMO, Andrew served as vice president of digital marketing at Smartsheet, where he built out Smartsheet's global demand generation function, and most recently led and grew global commercial sales and demand generation as senior vice president of commercial sales and demand generation.
Before joining Smartsheet in 2014, Andrew was vice president of professional services, Americas, at Onyx Software Corporation. A successful entrepreneur, he also founded and served as president of Deneki Outdoors, an outdoor recreation brand, where he developed a passion for inbound marketing.
Andrew received a BA in computer science from Dartmouth College and is a member of Phi Beta Kappa. Raised in Alaska, he enjoys skiing, fishing, biking, and being outdoors with friends and family.
Connect